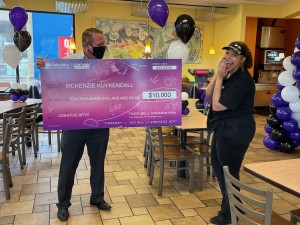 On May 12, the Taco Bell Foundation awarded $7 million in Live Más Scholarships to 420 team members and students, selected from nearly 10,000 submissions.
Southern Multifoods, Inc. had one Live Más Scholarship recipient, Mckenzie Kuykendall! Mckenzie is a team member at our Taco Bell in Sulphur Springs, TX. Mckenzie was awarded $10,000 for school to pursue her passion.
McKenzie has been a Taco Bell team member for 2 years and plans to use the $10,000 scholarship to obtain her Bachelor's Degree in Social Work.
About the Live Más Scholarship:
The Taco Bell Foundation's Live Más Scholarship is designed to fuel students' boldest educational and career ambitions. The application requires a 2-minute video describing what you love to do. Both employees and any young fans of the brand ages 16-26 can apply. Scholarships range from $5,000 - $25,000 per student. The Taco Bell Foundation has awarded $21 million since 2016.
Congratulation McKenzie we wish you the best!