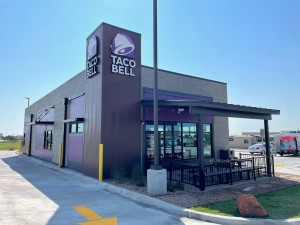 HELLO NORTH FORT WORTH(HARMON RD), TX!
WE OPENED OUR NEW LOCATION IN VAN, TX ON SEPTEMBER 7TH, 2022. TACO BELL #40353 IS THE 110TH LOCATION FOR SMI. YOU CAN FIND ALL OF YOUR FAVORITE MEXICAN-INSPIRED ITEMS FROM OUR CLASSIC CRUNCHY TACOS TO YOUR FAVORITES LIKE THE CHALUPA SUPREME, AND NACHO CHEESE DORITOS® LOCOS TACOS. CUSTOMIZE ANY OF OUR ITEMS WITH A VARIETY OF SAUCES AND ADD-ONS TO CREATE FAVORITES FOR YOU AND YOUR FRIENDS. WITH BREAKFAST OPTIONS TO LATE-NIGHT, TACO BELL HAS ITEMS TO SATISFY YOUR CRAVINGS THROUGHOUT THE DAY.
WE ARE EXCITED TO SERVE THE COMMUNITY ONE TACO AT A TIME!
Store #040353 | 8945 LOWER SONOMA LN | FORT WORTH, TX 76117
AREA LEADER: ASHU SAHA