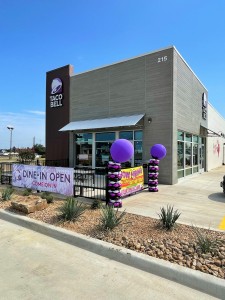 HELLO GUN BARREL CITY, TX!
WE OPENED OUR NEW LOCATION IN GUN BARREL CITY ON SEPTEMBER 21, 2021. YOU CAN FIND ALL OF YOUR FAVORITE MEXICAN-INSPIRED ITEMS FROM OUR CLASSIC CRUNCHY TACOS TO YOUR FAVORITES LIKE THE CHALUPA SUPREME, AND NACHO CHEESE DORITOS® LOCOS TACOS. CUSTOMIZE ANY OF OUR ITEMS WITH A VARIETY OF SAUCES AND ADD-ONS TO CREATE FAVORITES FOR YOU AND YOUR FRIENDS. WITH BREAKFAST OPTIONS TO LATE-NIGHT, TACO BELL HAS ITEMS TO SATISFY YOUR CRAVINGS THROUGHOUT THE DAY.
WE ARE EXCITED TO SERVE THE COMMUNITY ONE TACO AT A TIME!
Store #037742 | 215 W MAIN ST | GUN BARREL CITY, TX 75156
AREA LEADER: MARCO GUTIERREZ
RESTAURANT LEADER: CHRISTINE SHEPPARD